Among the new diplomatic concepts, thoughts and strategies put forward by President Xi Jinping, the idea of building a community of a shared future for mankind is a key contribution.
The concept has become the theme of a major chapter that Xi addressed in the keynote report he delivered at the all-important 19th National Congress of the Communist Party of China earlier this week.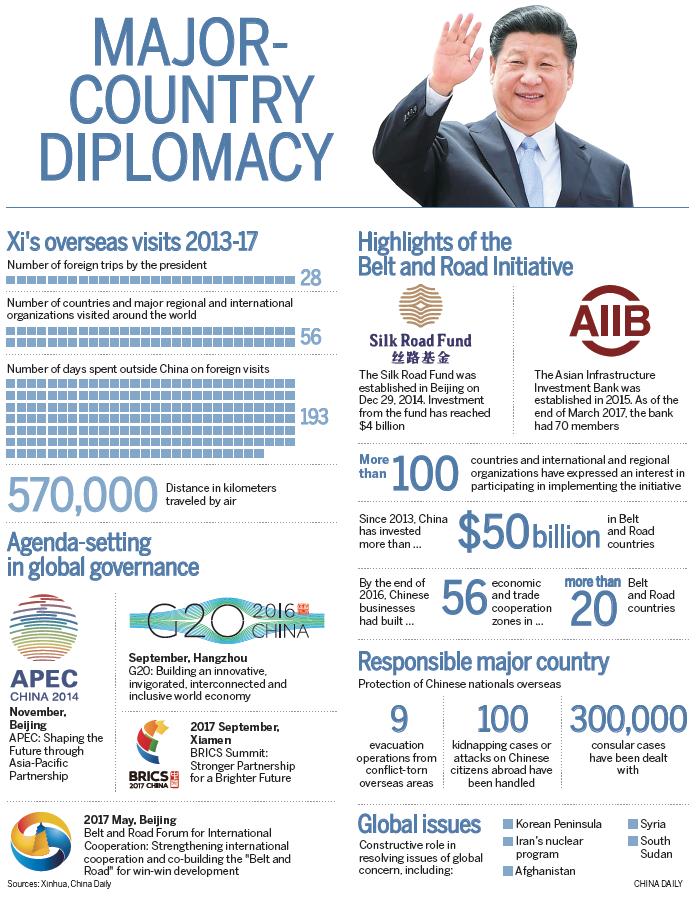 Diplomatic skills boost China's global role
"We call on the people of all countries to work together to build a community with a shared future for mankind, to build an open, inclusive, clean and beautiful world that enjoys lasting peace, universal security, and common prosperity," Xi, also general secretary of the CPC Central Committee, told the more than 2,000 delegates.
He added that China will continue to play its part as a major and responsible country, take an active part in reforming and developing the global governance system, and keep contributing Chinese wisdom and strength to global governance.
Xi used a vivid description of how the international community can use its combined efforts to tackle a range of problems.
The comments built upon Xi's keynote speech at the United Nations in Geneva in January, when he spoke of China's approach to solving problems.
【1】
【2】
(Web editor: Liang Jun, Yang Mu)